Alex and Heather's Registry Page
Back to Alex's home page.
---
Tableware
We are registered for tableware at:
Heritage House, Inc.
2190 Palou Avenue
San Francisco, CA 94124
(415) 285-1331
(800) 776-6873

where we have selected china, silver, and crystal (pictured below). Heritage house offers excellent prices for over-the-phone orders. They will be storing our gifts at their store until we have permanently located in the bay area.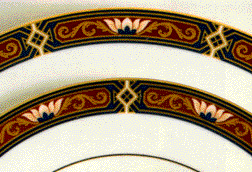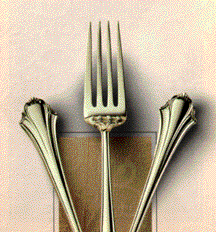 Wedgwood Chippendale (left), and Lunt Bel Chateau (right)

Orrefors Prelude
Cookware
We have registered for pots, pans, knives, porcelain, etc. at Alex's favorite store, whose slogan is "Where chefs shop". Chef's Cordon Bleu has nearly unbeatable prices for cookware, but non-Bay-Area shoppers will have to buy sight-unseen. Highlights include All-Clad MasterChef pots & pans, J.A. Henckels Four Star knives, and BIA porcelain.
Chef's Cordon Bleu
1135 Industrial Rd.
San Carlos, CA 94070
(415) 637-8405

Lots of Stuff
We have registered at Macy's for towels, serving pieces, and other items for around the house and kitchen. We have duplicate-registered at Macy's for crystal and knives so that those who wish to see these items can do so. Highlights include Fieldcrest Charisma towels, Colony Crafts glassware, and Samsonite Silhouette 5 luggage.

Our registry is available from Macy's, Bullock's, and Jordan Marsh stores across the country. When requesting it, be sure to indicate "west coast", as the databases are regional.

Macy's Bridal and Gift Registry: (800) 701-7112
---
Thu Nov 13 17:48:15 2003