Knives from Kyoto
Back to
Alex's food page
.
I recently visited Kyoto, Japan. Before I left, I had planned to buy a kitchen knife during the trip. Japan is known for high quality blades and Kyoto is most renown. I visited three shops:
Shigeharu
Map link. This is the least pretentious shop. Apparently, the business has been running since before 1329. It's south of Nijo Castle. It really looks like a place where work is done. They also sell knives here. They sell knives they make and also some mass-market knives. The man who helped me spoke little English, but communicated well enough. He drew lots of pictures on paper. They make high-carbon sandwich knives. Some are clad in stainless. Some are clad in soft steel. If you want a stainless knife, you can buy a Misono UX10 here. I bought a Shigeharu 18cm soft steel gyuto with traditional handle. It came with a gummy stone to keep rust under control. It looks medieval, but cuts like nobody's business.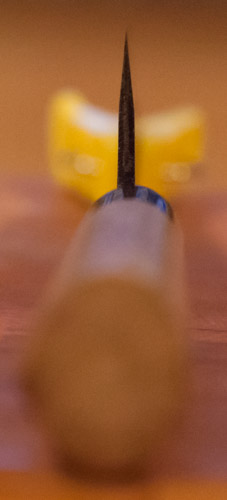 Aritsugu
Map link. This is where everybody goes. It's in the Nishiki Market. It dates to 1560. I doubt they make knives here, but the layout and organization are good. The place can get crowded, but customer service in English is fine. It may be a gimmick, but they will engrave a knife that you buy. I assume that engraved knives can't be returned. It seems all their knives use the same construction. It's high-carbon steel in a stainless sandwich. For some reason, I was hoping for more choice. I had hoped to get a 21cm gyuto with traditional handle. I ended up with a santoku with a western handle. I also bought a petty knife. Pricing seemed fair.
Kikuichimonji
Map link. This shop is near the north end of the Teramachi Market, near Nishiki Market. It's not very touristy, but not rustic. Visually, it's crowded with many shiny things. This seems to be the place to buy high-end stainless knives. Westerners should probably come here first. They have a nice sheet of paper that shows the various shapes, metals and quality levels, in English. The staff seemed good: fine English and not too pushy. You can spend a lot on a knife here. I have no idea how you verify that you're getting what you pay for. They have quite a selection of Damascus knives with western handles. I bought a 21cm gyuto with western handle.
Tokyo
Kappabashi Street
Many knife shops. Just walk around. Map link 1. Map link 2. Map link 3. Map link 4.
Union
Kappabashi kitchenware street. R2 damascus santoku. tailor's snips
Yokohama
Kikuhide
Map link.
Isezaki cho. VG-10 damascus santoku. R2 petty. ginger grater.