Alex and Heather's Wedding Page
Back to Alex's home page.
---
The Happy Couple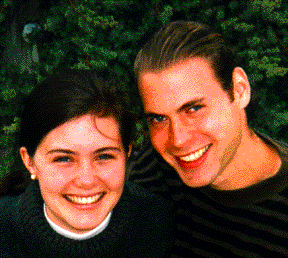 Heather and Alex
The Date
Saturday 25 May 1996 (Memorial Day weekend)
The Location
The Princeton University Chapel (a sketch, a floorplan), Princeton, New Jersey
Information
Our Wedding Information sheet covers logistical details. We have also done some registering in case people want to get us gifts.
The Story
Ours has been a bit of a fairy-tale romance. We met at Princeton University, from which we both graduated in May 1992. No one can quite explain how Alex gained entry to Princeton. Heather had no trouble getting in, but was exposed to Princeton only by chance when she attended a cousin's wedding there. Her grandfather had conspired to send her to Amherst, and Heather herself was seriously considering Stanford.

There is some debate as to when we first met, as we had many mutual friends; Heather thinks Alex didn't remember her and Alex thinks Heather confused him with someone else. Nonetheless, the pivotal event occurred in September 1990. That was the time of Princeton University Outdoor Action's "Frosh Trip", a wilderness backpacking pre-orientation program. Quite at random (so he claims), Rick Curtis, the program director, assigned us to lead trip "G5" together.

The trip proceeded wonderfully. We became fast friends and even exchanged a few back massages. Some trip participants assumed that we'd been friends since before the trip. Once the trip ended and we'd showered and re-integrated into civilization, something happened that shouldn't surprise anyone familiar with Outdoor Action: Heather gave Alex the "just friends" treatment.

Undaunted (perhaps as a result of being dropped on the head as an infant), Alex continued to pursue Heather for 4 1/2 months. Finally, due to some intervention by Heather's best friend Dunrie, and Alex's jealosy campaign (i.e.: another woman), Heather caved in. Our first true date was 11 January 1991 at the Athenain on Witherspoon Street. Heather insists, of course, that she was testing the waters the whole time.

We spent the remainder of our time at Princeton falling in love and doing the kinds of unexplainable things that people do when they're in love. We continued to lead Outdoor Action trips. Alex became a regular at Heather's Jazz Ensemble concerts, and Heather started playing women's ultimate.

After graduation, we embarked upon a seven-week trip to Australia and New Zealand. This was to be the true test of our relationship. It was also a great deal of fun. We spent four weeks in "Oz", travelling north by bus along the east coast from Syndey to Cape Tribulation. We stayed in "backpackers" accomodations and did some real backpacking, too. Next, we flew to Auckland, New Zealand, where we rented a Nissan Sunny. Heather, after learning to drive on the wrong side of the road, taught Alex to drive with the stick-shift. We then headed south. After seeing lots of sheep and bubbling mud, we took a ferry to the south island where we did some backpacking and bungee jumping.

Having survived our trip, we returned to California, where Heather's parents live. After unwinding for a time, Alex started his new job at Oracle, and Heather flew to Baltimore to begin medical school. This was the beginning of our long-distance love affair. We earn many frequent-flyer miles, seeing each other about once each month. We also speak on the phone every day. It's tough, but we're looking forward to Heather doing her residency in Northern California.

We became engaged on 23 December 1994. After a number of months of decreasingly subtle hints from Heather, Alex slipped a ring on her finger. The scene was the San Francisco airport, on the top floor of the parking garage (A5). It was more romantic than some might guess, as the airport has sentimental value for us. We are presently embroiled in planning for the big day.
---
Sat Feb 7 14:32:58 2004